©2-14-2005
Freebie Graphics
Please read my Terms and conditions on my Terms and Conditions page. I created these graphics myself and hope that you don't take credit them. You may use them and a link back to me would be appreciated. There is an image with the graphics for a link.
Miscellaneous Graphic Freebies and Freebie Graphic Sets are
located on the Rose Set 1 page.
©2-14-2005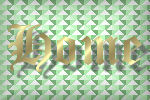 ©2-14-2005